With 2,000 years of history and culture at its back, London is not lacking great sites to behold. Fortunately, living here affords you the opportunity to see beyond the usual tourist haunts like Hyde Park and Tower Bridge. Hopefully living here encourages you to look beyond the conventional and learn more about this special city you're calling home. Here are 10 of my favourite sites…
1. St. Bartholomew-the-Great

Depending on the source, this small parish church near Farringdon can be considered London's oldest surviving church. Worship has happened on the site since 1123 and small bits of the original building still make up the foundation of the church today. Over the centuries much has been added and changed to the grounds, including a pristinely preserved Tudor gatehouse, one of the few Tudor structures that remains in London. This entire area is full of fascinating London history and even the Museum of London itself. Even though Protestants are no longer burned at the stake in nearby Smithfield, you can still enjoy the early morning meat market, beautiful old houses just across from the church, and pubs with so much character they make Walt Disney jealous. Walking along the narrow passages takes you back through centuries of old London.
2. Regent's Canal Walk

One of the best walks you can do during your time in London is this one. In fact, follow the canal anywhere and you will be rewarded with great views, unlike anything else you can see in the city. Start your walk in Little Venice (which looks nothing like real Venice, do not get your hopes up) and continue to Regent's Park where you can walk canalside through the greenery and past some of the most beautiful and no doubt expensive houses in London. You will pass through the zoo and eventually end up in Camden, which is the perfect place to leave the canal behind for some shopping or make the trek up to nearby Primrose Hill.
3. St. Dunstan-in-the-East

A beautiful church dating back to 1100 now lies in the City of London as a spectacular public garden and ruin. The church was bombed beyond repair in the Second World War, with only the tower and walls remaining. Instead of tearing it all down, the area was beautifully reclaimed with grass and trees planted. Now it stands as a reminder of the devastation caused during the Blitz and is a fantastic place to take pictures or relax with a good book.

4. Inns of Court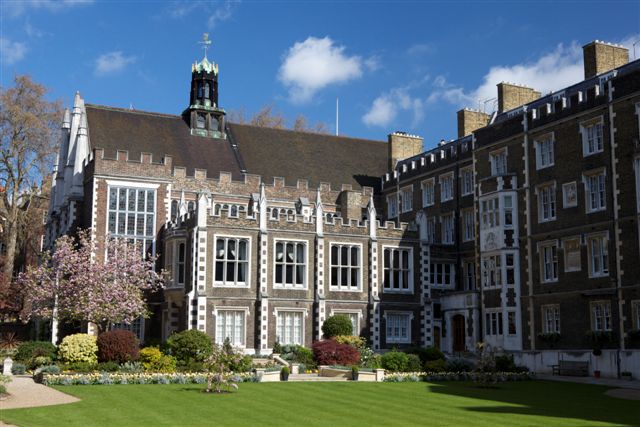 Unless you are studying law these hidden gems have likely eluded your gaze. Barristers in England and Wales must belong to one of the four Inns of Court: Gray's Inn, Lincoln's Inn, Middle Temple and Inner Temple. It may be difficult to get into law school but feel free to walk into and enjoy any of the parks and squares around these law offices. Many of these associations go back to Medieval times and the architecture and tradition of the area reflects that. When it reopens in 2020, the Hunterian Museum in lovely Lincoln's Inn Fields is well worth the free trip for anyone interested in seeing weird specimens and body parts in jars. Conveniently, the Inns of Court are right next to the next secret sites on our list…
5. Royal Courts of Justice & Somerset House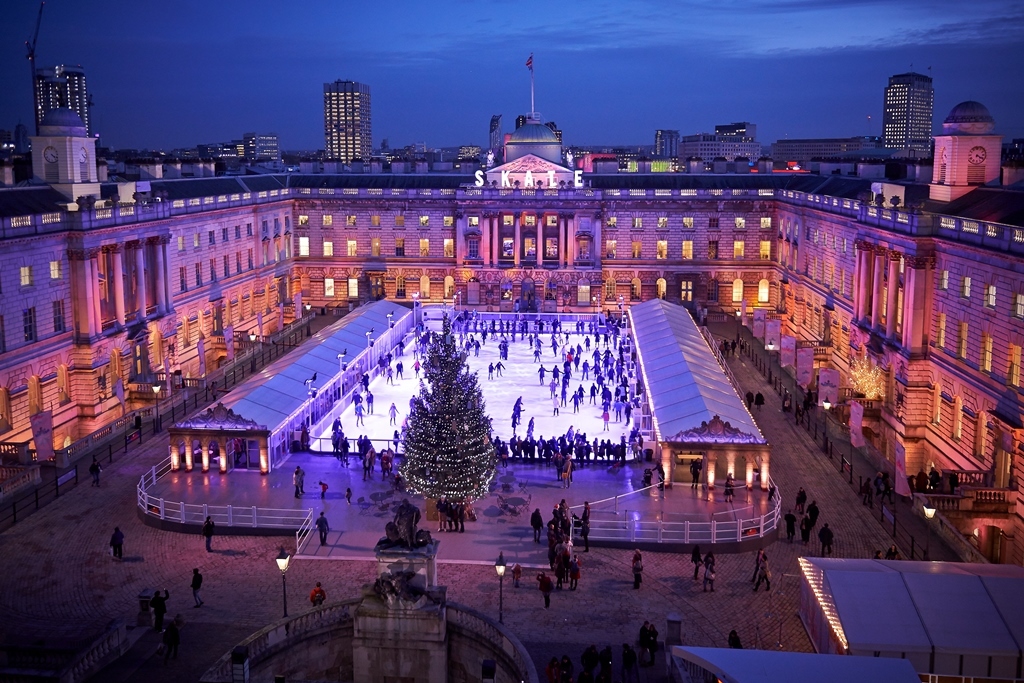 Without even realizing it, you have probably been past these next sites on buses through Central London. Next time hop off the bus to take in these beautiful and unique sights from ground level. They are just down the road and well within walking distance from one another, which helps. The Royal Courts of Justice is one of the most spectacular buildings in the city. Its Victorian Gothic style makes it look like something straight out of Harry Potter (so I'm told), and tours are available if you want to go inside. Somerset House is a Neoclassical marvel located on the Strand. The courtyard is home to many special events throughout the year, including an ice skating rink in winter. When the area is not all dressed up, the fountains in the courtyard and the architecture look like something you would find in Paris. And I mean that in a nice way. Remember always to look beyond the bus!
6. Richmond and Richmond Park

Needing an escape from fast-paced city life? Hop on a train or tube to Richmond (Zone 4) to enjoy a nice Thames-side lunch in one of the many beautiful cafes or pubs on the river. There are shops and restaurants aplenty. Richmond has the feel and charm of a small town with the convenience of actually being in London. It happens to have wild deer too. You heard me right, there is an area in London where dear roam free - Richmond Park! However, do not make the mistake I did and walk from the city through the park – find a bus instead, as this is the biggest of London's Royal Parks. Consider turning this into a full day outing by pairing Richmond with a trip to Hampton Court Palace via the R68 bus!
7. Millennium Bridge

"What is Millennium Bridge doing on a list of London's Secret Sites?" asks anyone who has been caught in the midday tourist bonanza here. Visiting this sleek, modern footbridge at night, however, is a different story. Once the sun is put to rest and the masses have all tucked into bed, head to Millennium Bridge to enjoy the quiet calmness on the river. You will be rewarded with great views of St. Paul's Cathedral and the City, and I have found this to be one of the few places to find actual peace and quiet in the heart of London.

8. Bloomsbury

Bloomsbury is the home of many of London's top universities and colleges, and as such, is mostly populated by students. The area behind the British Museum includes lots of greenspaces and squares which make for nice places to picnic or read such as Golden, Tavistock, and Russell Squares. If you prefer to be active, take a walk through any of these old streets to appreciate the architecture. Bedford Square is London's best kept Georgian square and is well worth the detour from Bloomsbury or the ever-crowded museum next door. Darwin, Dickens, Yeats, Woolf, Keynes and many other notables of history have called this area home, look out for their blue plaques.
9. Highgate Cemetery

The famous final resting place of London's elite from Karl Marx to George Michael, this cemetery opened in 1839 as one of London's "Magnificent Seven" Victorian cemeteries. Admire the old funerary architecture, now partly consumed by nature in London's most famous and prestigious burial ground. Highgate is divided into two separate parts, with the West Cemetery being more stunning and historic than its eastern neighbour. Visits to the west side are by guided tours only, which run frequently on weekends. Highgate does charge a small entrance fee, but it is well worth it. Not sure how East Cemetery resident Marx would feel about that though…
10. Holland Park

Peacocks. That is all you need to know. Holland Park has peacocks. Pick a nice weather day and head towards the Japanese Kyoto Garden in this West London gem to find the peacocks. Also, David and Victoria Beckham live just around the corner, so if you get lucky maybe they will invite you in for tea.
This list is in no way comprehensive, but hopefully gives you several ideas to further your adventure. I have found that the best adventures come from spontaneous, aimless walks or rides, so hopefully by the end of your stay, you will have your own list of way more than 10 unexpected, previously unknown London sites!